Konstamonitou Monastery, Mount Athos, Chalkidiki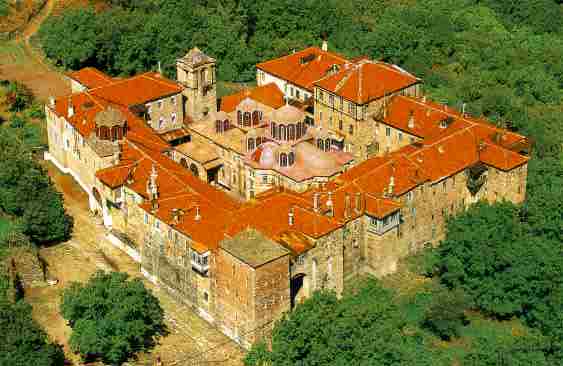 General Details
Type:

Monastery

Archdiocese:

Ecumenical Patriarchate of Constantinople

Feast Day:

December 27 - St. Stephen the Protomartyr
Contact Details
Address:

Konstamonitou Monastery, Mount Athos, Chalkidiki, 63087 Greece

Phone:

+30 23770-23228
Historical Details
History:

Konstamonitou monastery is located on the south-east side of the peninsula at an altitude of 200 m on a wooded slope of the mountain. The monastery was founded in the tenth century by a monk named Konstamonites. Byzantine emperors and Serbian princes helped it to develop, but it was burnt down in the sixteenth century and remained in decline until the end of the eighteenth.

The monastery began to revive in the early nineteenth century, when the east wing was built with a donation by Vassiliki Kondaxi, a wife of Ali Pasha; and fifty years later, the north wing and the katholikon were built with money collected by two monks, Symeon of Stayira and Joseph of Xeropotamou Monastery.The sanctuary screen in the katholikon is made of Athenian marble. The church is dedicated to Stephen the First Martyr. There are also eight chapels, four inside and four outside the monastery. Those are the chapels of Our Lady, Saint Constantine, All Saints and Saint Nicolas. Into the chapel of Our Lady lies the miracle-working icon of Virgin Portaitissa. The chapels outside the monastery are dedicated to Archangels (in the cemetery), the Holy Trinity, the Panagoudas, Saint Antony and Saint Nicholas (at the port).The library has 100 codices. The monastery?s treasures include most notably an icon of the Panagia Hodegetria Antiphonetria and an icon of St Stephen. The monastery has thirty monks (1990), observes the coenobitic way of life, and is twentieth in the hierarchy of the Athonite monasteries.
For Priests or Parish Council Officers Services for the Monastery
If you are a Priest or Parish Council Officer of this Monastery you may use the following services:
Update Monastery Details
Take a moment to update the listing details of Konstamonitou Monastery, Mount Athos, Chalkidiki, add photos as well as include information on your services and historical data so that the Monastery listing is complete; your parishioners can better communicate with you and know more about the Monastery!
Lighten the Monastery
Create and publish a list of items that you need for your Monastery. As a Monastery Representative, you are aware of religious items that the Konstamonitou Monastery, Mount Athos, Chalkidiki truly needs. The Lighten a Church service enables you to create a list with what you need for the Monastery; once there is a prospective donor who wishes to help, he or she can purchase an item or more from your Need list on Monastery's behalf.
Support for Monastery Endeavours
Create Holy Causes for funding of your Monastery's Christian projects and endeavours. Support a Holy Cause is a new service empowering your parishioners and followers to connect virtually with Konstamonitou Monastery, Mount Athos, Chalkidiki and support specific Christian endeavours such as Philoptochos and Monastery Renovation in an easy and secure way. As a Monastery Representative, you can create one or more Holy Causes and start getting funding for your Monastery projects.