Saint Paul Monastery, Mount Athos, Greece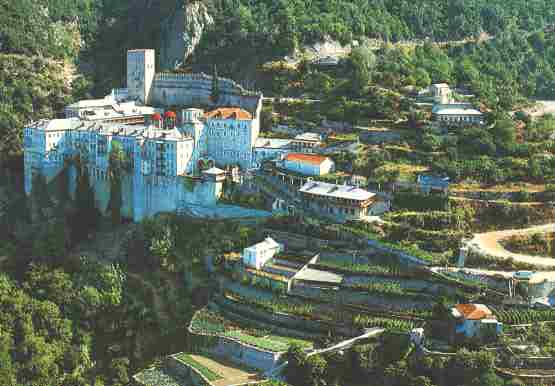 General Details
Patriarchate:

Pastor:

Feast Day:

February 2 - Presentation of Christ
Contact Details
Address:

Saint Paul Monastery, Mount Athos, Chalkidiki, 63087 Greece

Phone:

+30 23770-23250

Fax:

+30 23770-23355
Historical Details
Build - Founding Year:

972

History:

The Monastery of Agios Pavlos (Saint Paul) is dedicated to Christ the Savior and is located on the west side of Mount Athos. Its existence first appears in documents of 972. Then it was mentioned in 1269. After the Catalan raids, it was degraded into a kellion, only to become a monastery again in the 3rd quarter of the 14th c. In the 15th c. it was financially supported by Serbians rulers and after the fall of Byzantium, by rulers of eastern Europe.

It occupies the fourteenth rank in the hierarchical order of the twenty Athonite monasteries. It is inhabited by 91 monks (1990) and is coenobitic (communal).Today?s Katholikon was built between 1839?1844 and it s dedicated to the Purification of the Virgin. Its special characteristic is its marble structure and the symmetry of its windows. Into the eso-narthex lie two chapels, dedicated to Saint Paul and to Saint George. Aside from the katholikon, the monastery has 10 chapels and a large tower that was erected in 1522.Its library contains 495 manuscripts and 12,500 printed books. The monastery?s most prized treasures are the portable icon of Virgin the Myrovlitissa (myrrh flowing), fragment of the True Cross and part of the gifts brought to baby Jesus by the Magi.The Monastery of Saint Paul also has ownership of the New Skete with 25 kalyvae and 40 monks, and the Saint Demetrios skete (Lakkoskete), where they live few Romanian monks. The New Skete?s main building houses 200 manuscripts.
For Priests or Parish Council Officers Services for the Monastery
If you are a Priest or Parish Council Officer of this Monastery you may use the following services:
Update Monastery Details
Take a moment to update the listing details of Saint Paul Monastery, Mount Athos, Chalkidiki, add photos as well as include information on your services and historical data so that the Monastery listing is complete; your parishioners can better communicate with you and know more about the Monastery!
Lighten the Monastery
Create and publish a list of items that you need for your Monastery. As a Monastery Representative, you are aware of religious items that the Saint Paul Monastery, Mount Athos, Chalkidiki truly needs. The Lighten a Church service enables you to create a list with what you need for the Monastery; once there is a prospective donor who wishes to help, he or she can purchase an item or more from your Need list on Monastery's behalf.
Support for Monastery Endeavours
Create Holy Causes for funding of your Monastery's Christian projects and endeavours. Support a Holy Cause is a new service empowering your parishioners and followers to connect virtually with Saint Paul Monastery, Mount Athos, Chalkidiki and support specific Christian endeavours such as Philoptochos and Monastery Renovation in an easy and secure way. As a Monastery Representative, you can create one or more Holy Causes and start getting funding for your Monastery projects.